News
Distracted driving citations in Pennsylvania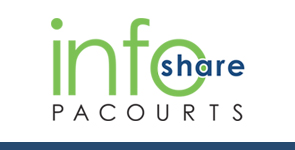 News Article
April 03, 2023
Distracted driving citations in Pennsylvania continue to trend downward as 2022 data shows citations decreased 10 percent from last year – representing a 60 percent decrease from 2018.
Distracted driving citations in Pennsylvania can be issued for 1) using headphones while driving, 2) using a handheld mobile phone while driving a commercial vehicle or 3) texting while driving. Texting includes sending, reading or writing a text-based message.
The infographic below highlights key data and demographics about distracted drivers in Pennsylvania over the last five years (2018 – 2022). A high-resolution file of the graphic is available for download at www.pacourts.us under Media Resources. See editor's note for detailed county data.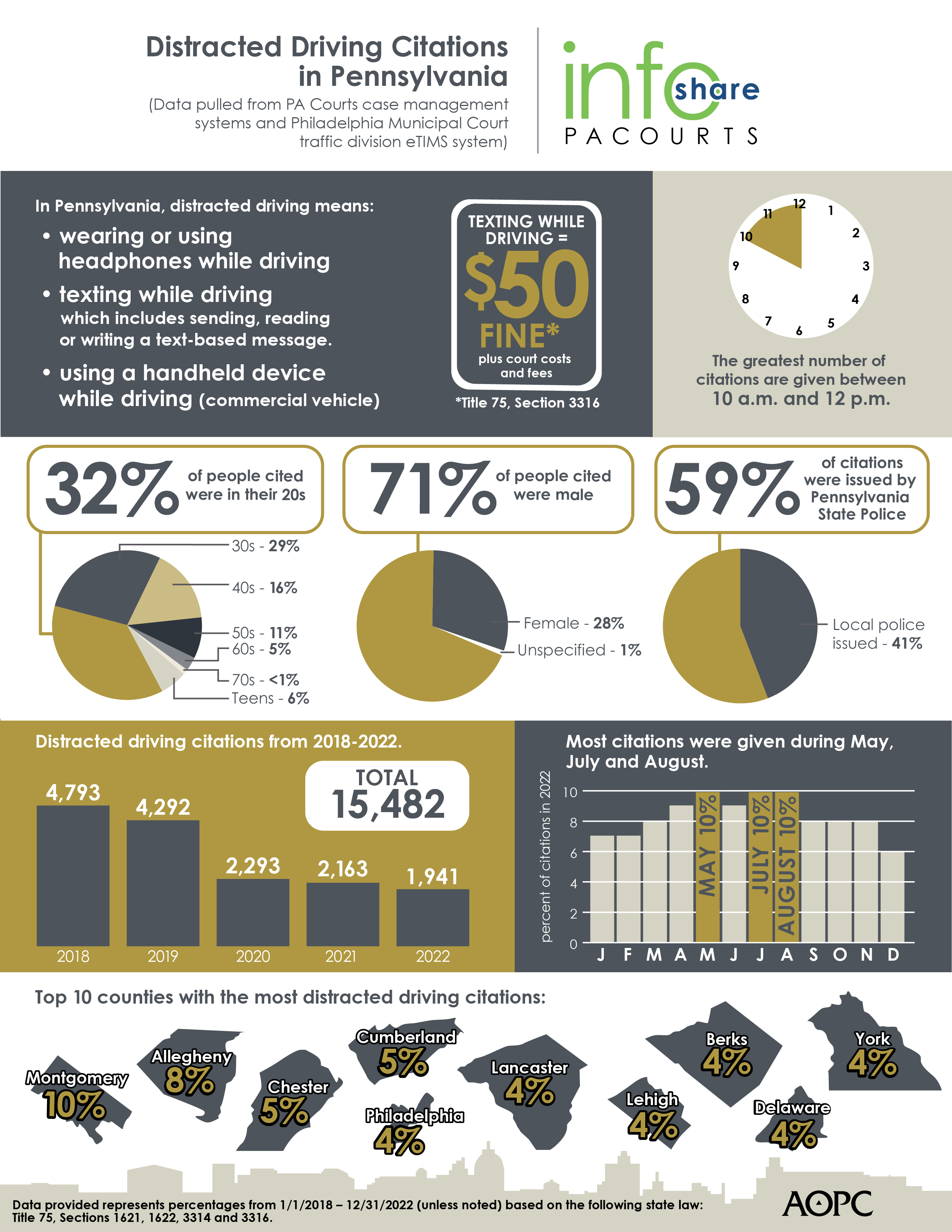 PA Courts InfoShare is a monthly product of the Administrative Office of Pennsylvania Courts (AOPC) that visually highlights the work of the courts with interesting data and statistics obtained through the judiciary's case management systems, interactive dashboards and other research. Reproduction is permissible with source cited.
###
Media contact: Kimberly Bathgate, 717-231-3331
Editor's Note:
Statewide Count of distracted driving offenses filed from 1/1/2018 through 12/31/2021, as recorded in the Magisterial District Judge System (MDJS) and Philadelphia Municipal Court Traffic Division eTIMS System; Grouped by County

County

2018

2019

2020

2021

2022

Total

Percentage of Total

Adams

57

55

37

31

18

198

1.28%

Allegheny

384

273

197

219

153

1,226

7.92%

Armstrong

9

17

8

8

8

50

0.32%

Beaver

32

22

15

10

17

96

0.62%

Bedford

41

24

17

11

11

104

0.67%

Berks

189

199

103

83

82

656

4.24%

Blair

22

25

16

18

9

90

0.58%

Bradford

6

10

5

7

14

42

0.27%

Bucks

217

139

60

56

52

524

3.38%

Butler

46

50

35

21

32

184

1.19%

Cambria

18

34

12

11

11

86

0.56%

Cameron

4

1

1

1

0

7

0.05%

Carbon

28

30

18

19

15

110

0.71%

Centre

42

17

13

12

10

94

0.61%

Chester

272

216

116

102

116

822

5.31%

Clarion

27

23

16

4

8

78

0.50%

Clearfield

16

10

22

10

18

76

0.49%

Clinton

13

31

12

15

12

83

0.54%

Columbia

89

51

37

25

38

240

1.55%

Crawford

20

22

38

16

12

108

0.70%

Cumberland

189

261

113

95

58

716

4.62%

Dauphin

127

155

106

75

73

536

3.46%

Delaware

157

177

80

95

109

618

3.99%

Elk

53

16

4

16

6

95

0.61%

Erie

56

43

37

44

43

223

1.44%

Fayette

33

27

16

22

21

119

0.77%

Forest

4

5

4

2

3

18

0.12%

Franklin

57

71

59

40

45

272

1.76%

Fulton

15

11

6

3

3

38

0.25%

Greene

12

8

1

5

17

43

0.28%

Huntingdon

8

3

2

4

4

21

0.14%

Indiana

24

18

5

7

5

59

0.38%

Jefferson

17

27

35

10

11

100

0.65%

Juniata

15

16

8

2

6

47

0.30%

Lackawanna

102

99

47

45

39

332

2.14%

Lancaster

214

174

82

58

81

609

3.93%

Lawrence

30

19

8

13

11

81

0.52%

Lebanon

105

93

26

28

20

272

1.76%

Lehigh

163

201

90

78

64

596

3.85%

Luzerne

107

122

83

84

94

490

3.16%

Lycoming

33

40

15

12

11

111

0.72%

McKean

14

12

7

6

9

48

0.31%

Mercer

45

39

27

30

17

158

1.02%

Mifflin

4

4

2

7

4

21

0.14%

Monroe

60

77

46

35

40

258

1.67%

Montgomery

577

443

188

221

150

1,579

10.20%

Montour

3

8

0

3

3

17

0.11%

Northampton

149

110

51

54

40

404

2.61%

Northumberland

23

16

22

8

5

74

0.48%

Perry

22

12

6

10

6

56

0.36%

Philadelphia

255

211

74

61

56

657

4.24%

Pike

11

18

11

12

10

62

0.40%

Potter

22

9

2

7

6

46

0.30%

Schuylkill

34

41

14

28

18

135

0.87%

Snyder

25

26

13

17

12

93

0.60%

Somerset

42

29

16

6

10

103

0.67%

Sullivan

0

1

2

0

1

4

0.03%

Susquehanna

40

21

14

21

25

121

0.78%

Tioga

11

15

3

7

10

46

0.30%

Union

12

13

5

4

3

37

0.24%

Venango

27

45

22

21

10

125

0.81%

Warren

7

2

3

6

3

21

0.14%

Washington

83

62

34

25

18

222

1.43%

Wayne

7

7

5

8

2

29

0.19%

Westmoreland

81

78

39

54

32

284

1.83%

Wyoming

16

16

5

3

4

44

0.28%

York

170

142

77

92

87

568

3.67%

Grand Total

4,793

4,292

2,293

2,163

1,941

15,482

N/A