News
Underage Drinking Citations in Pennsylvania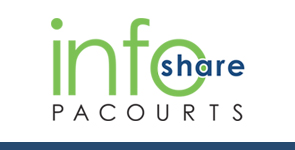 News Article
February 03, 2023
Over the past five years, underage drinking citations statewide totaled 45,402. In Pennsylvania, an underage drinking citation is issued to anyone under the age of 21 who is caught possessing, consuming, transporting, purchasing or attempting to purchase any alcoholic beverage. These numbers do not include driving under the influence citations.
The infographic below highlights key data and demographics about underage drinking in Pennsylvania. Download a high-resolution version of the graphic.
County-specific data is available at the end of the news release.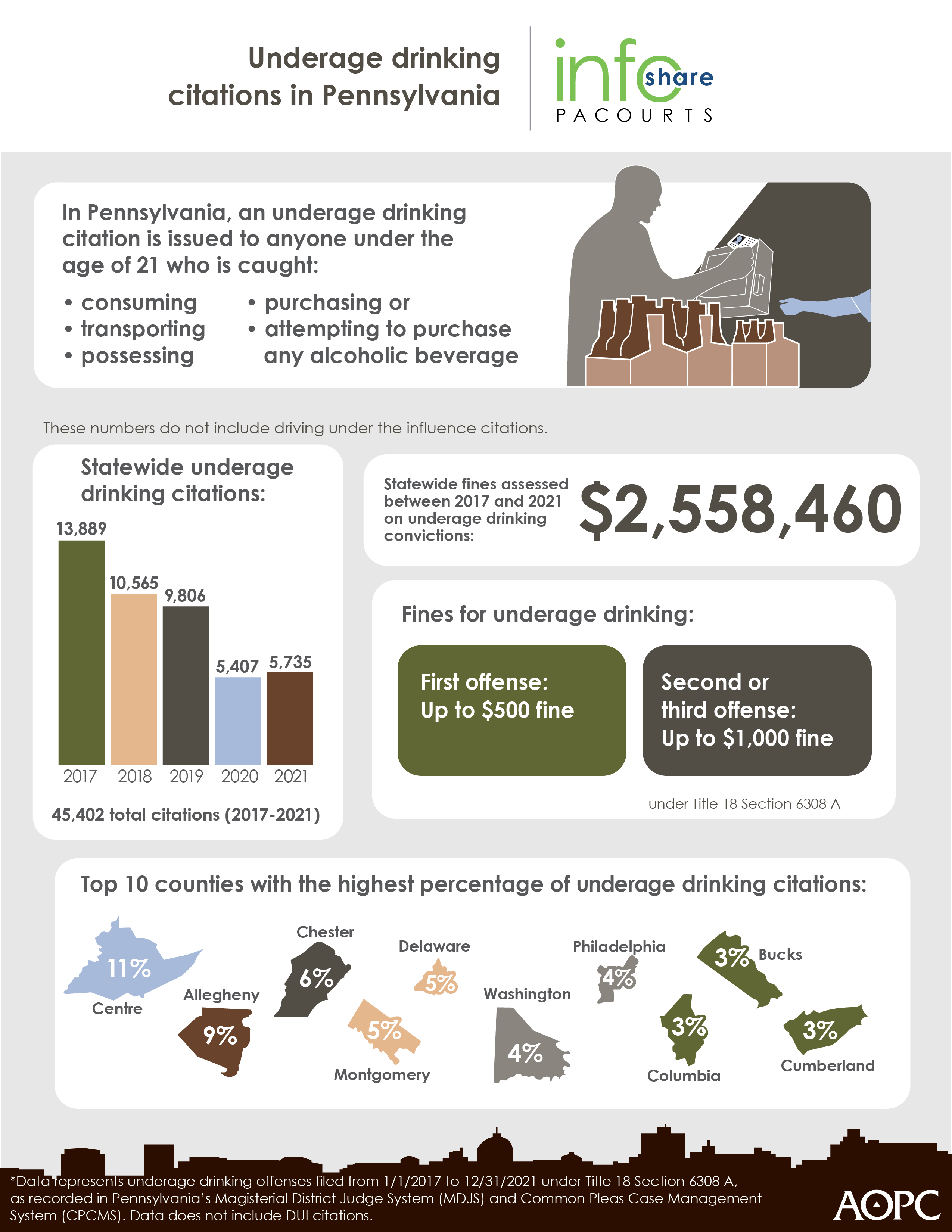 PA Courts InfoShare is a monthly product of the Administrative Office of Pennsylvania Courts (AOPC) that visually highlights the work of the courts with interesting data and statistics obtained through the judiciary's case management systems, interactive dashboards and other research. Reproduction is encouraged with source cited.
##
Media contact: Kim Bathgate, 717-231-3331
Editor's Note:
Title 18 Section 6308 A (Purch Etc Alcoh Bev By A Minor) offenses filed from 1/1/2017 through 12/31/2021, as recorded in the Magisterial District Judge System (MDJS) and Common Pleas Case Management System (CPCMS).

County

2017

2018

2019

2020

2021

Total

Percentage of Overall

Adams

110

78

122

87

79

476

1.05%

Allegheny

1,313

976

711

437

470

3,907

8.61%

Armstrong

67

30

28

17

22

164

0.36%

Beaver

131

116

81

50

68

446

0.98%

Bedford

45

28

16

5

11

105

0.23%

Berks

327

238

244

158

125

1,092

2.41%

Blair

215

200

164

133

79

791

1.74%

Bradford

48

106

20

23

15

212

0.47%

Bucks

500

354

291

180

141

1,466

3.23%

Butler

303

199

277

140

159

1,078

2.37%

Cambria

75

60

97

51

60

343

0.76%

Cameron

4

5

0

0

2

11

0.02%

Carbon

31

18

15

29

22

115

0.25%

Centre

1,436

1,079

1,115

447

665

4,742

10.44%

Chester

877

594

579

289

494

2,833

6.24%

Clarion

95

91

65

38

30

319

0.70%

Clearfield

76

30

45

24

34

209

0.46%

Clinton

117

78

45

25

21

286

0.63%

Columbia

404

391

337

146

104

1,382

3.04%

Crawford

96

89

41

61

60

347

0.76%

Cumberland

412

254

258

210

212

1,346

2.96%

Dauphin

270

234

251

127

131

1,013

2.23%

Delaware

685

489

620

218

213

2,225

4.90%

Elk

29

36

24

23

24

136

0.30%

Erie

323

224

177

148

139

1,011

2.23%

Fayette

93

58

42

39

16

248

0.55%

Forest

1

4

1

1

0

7

0.02%

Franklin

101

90

63

53

42

349

0.77%

Fulton

11

5

8

0

5

29

0.06%

Greene

24

8

18

3

8

61

0.13%

Huntingdon

33

38

32

28

16

147

0.32%

Indiana

318

395

250

110

133

1,206

2.66%

Jefferson

38

21

23

12

20

114

0.25%

Juniata

26

8

9

10

16

69

0.15%

Lackawanna

259

242

300

106

151

1,058

2.33%

Lancaster

310

265

257

151

143

1,126

2.48%

Lawrence

52

55

34

35

33

209

0.46%

Lebanon

107

98

56

38

28

327

0.72%

Lehigh

169

100

100

41

45

455

1.00%

Luzerne

228

187

123

90

78

706

1.55%

Lycoming

154

115

88

53

67

477

1.05%

McKean

75

42

57

50

32

256

0.56%

Mercer

98

61

69

42

50

320

0.70%

Mifflin

46

25

23

18

24

136

0.30%

Monroe

190

98

68

36

45

437

0.96%

Montgomery

723

481

403

292

239

2,138

4.71%

Montour

4

4

13

4

8

33

0.07%

Northampton

458

233

181

123

119

1,114

2.45%

Northumberland

70

54

62

62

43

291

0.64%

Perry

26

33

20

17

14

110

0.24%

Philadelphia

458

498

428

169

299

1,852

4.08%

Pike

14

16

11

13

7

61

0.13%

Potter

10

2

11

22

18

63

0.14%

Schuylkill

76

75

76

36

17

280

0.62%

Snyder

22

19

38

37

16

132

0.29%

Somerset

71

51

50

44

12

228

0.50%

Sullivan

1

2

3

0

0

6

0.01%

Susquehanna

16

8

19

37

15

95

0.21%

Tioga

63

63

28

18

23

195

0.43%

Union

110

108

87

60

68

433

0.95%

Venango

45

27

18

27

14

131

0.29%

Warren

24

30

23

11

16

104

0.23%

Washington

605

438

674

98

183

1,998

4.40%

Wayne

16

10

17

11

8

62

0.14%

Westmoreland

304

219

145

114

128

910

2.00%

Wyoming

12

24

7

8

7

58

0.13%

York

439

258

248

222

149

1,316

2.90%

Grand Total

13,889

10,565

9,806

5,407

5,735

45,402

100.00%